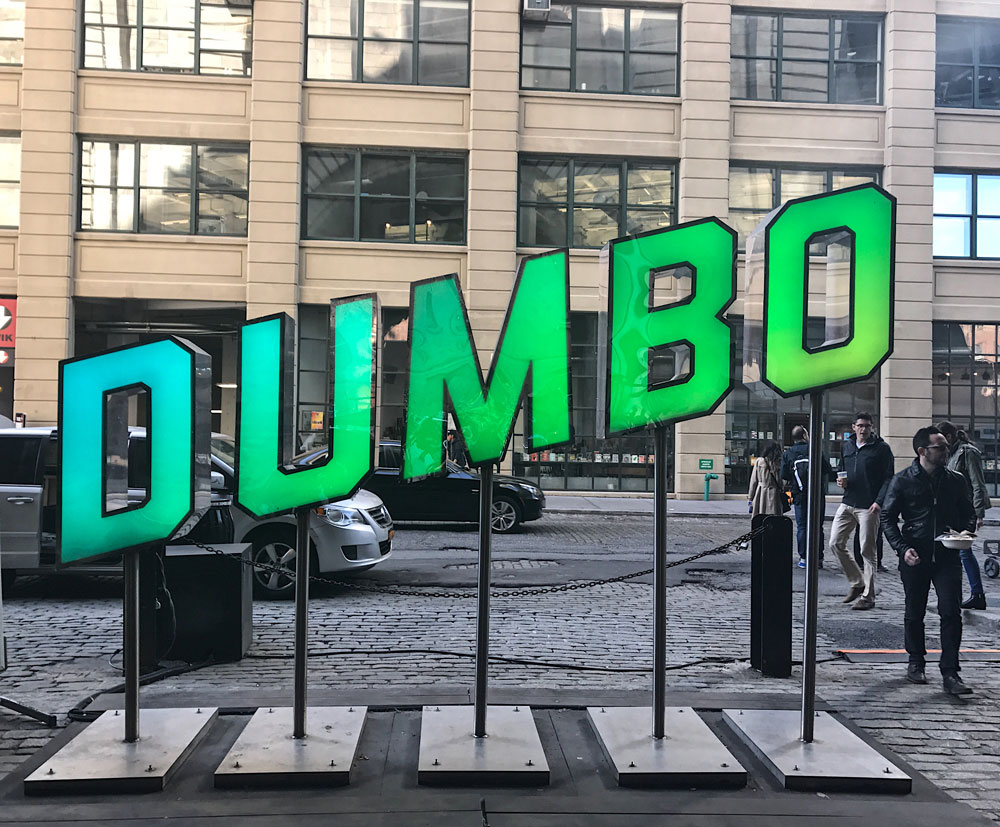 DUMBO = Down Under The Manhattan Bridge Overpass
Local artists named the neighborhood in the 1980's, as they began flocking to this industrial relic. Blending a gritty industrial past with urban chic: Belgian block streets, old train rails and former warehouses. DUMBO is bustling with the creative vibrancy of artists, theaters, restaurants and two waterfront parks. Brooklyn's Dumbo amazes with breathtaking views of the Manhattan skyline. This small walkable neighborhood is fun to explore by foot and no matter where you wander, your bound to stumble upon amazing places to eat, shop and explore.
WALK ACROSS THE BROOKLYN BRIDGE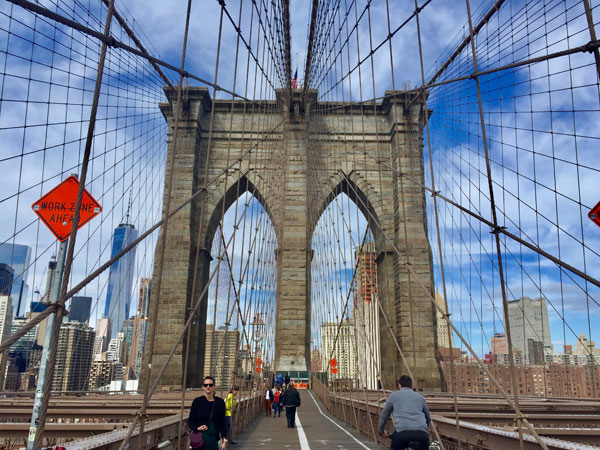 Whether you're the city born, just "passing through" or an enthralled tourist, no time spent in our fair city would be truly complete with out a stroll across the Brooklyn Bridge. Built in 1883, this grande dame reaches majestically over New York City's East River, linking the two boroughs of Manhattan and Brooklyn. More than 12,000 vehicles, 4,000 pedestrians and 3,100 bicyclists cross it every day. It has inspired the works of such notable artists as Georgia O'Keefe and Andy Warhol, the playwright Arthur Miller, poet Jack Kerouac, musician Wyclef Jean and has featured rolls in time-honored films like "Moonstruck" and Woody Allen's "Manhattan". On any given day you'll exchange pleasantries with fellow footmen from around the globe, pay homage to the possibilities of endless love when viewing the "love locks" or offer congratulatory wishes to those fearless newlyweds taking their first official stroll straight from taking the plunge at City Hall.  It's all there and it's free. Go take a hike!
BROOKLYN BRIDGE LOVE LOCKS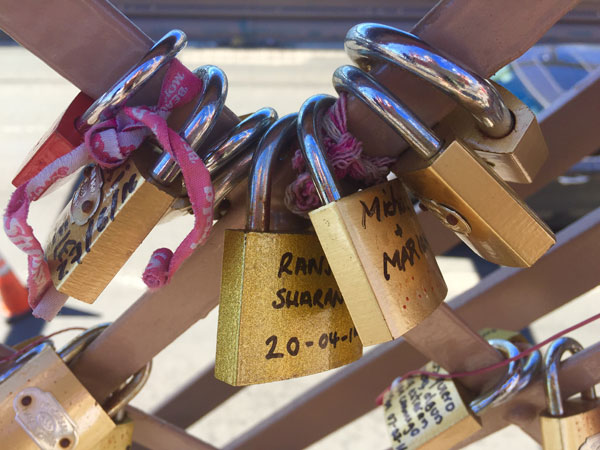 Starting in the 1990's, the tradition of affixing engraved locks to bridges has been seen all around the world from Paris's Pont des Arts, to Rome's Pont Milvio, to the Brooklyn Bridge. Couples secure their locks then throw the keys into the East River often hitting cars below. The Brooklyn Bridge is a beloved National Historic Landmark and must not be damaged or altered. Because of this iconic status, The New York City of Transportation has started cracking down on these locks of love due to safety concerns. So far the city has removed more than 6,000 locks of love.
TAKE A RIDE ON JANE'S CAROUSEL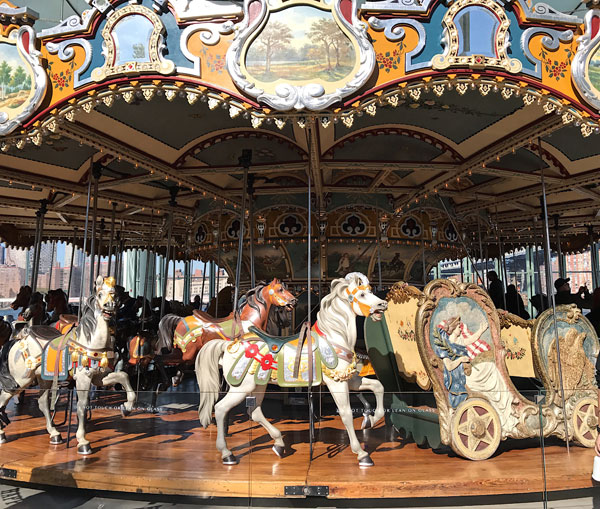 No visit to Dumbo would be complete without a spin on Jane's Carousel, a 1922 merry-go-round that was moved from Ohio completely restored. It's 48 beautiful horses prance near the East River year-round. Located in the Brooklyn Bridge Park, Jane's Carousel is housed in a gorgeous glass pavilion.
SHOP DUMBO
You will be delighted in DUMBO's eclectic stores, many of which are housed in huge lofty spaces. A couple of my favorites are:
~ SHIBUI Japanese Antiques, 38 Washington Street.  Reflecting the aesthetic of its namesake (meaning simple, subtle and unobtrusive beauty) SHIBUI offers a treasure trove of unique Japanese ceramics, textiles, cabinetry and folk art items.
~ The FEED Shop & Cafe, 55 Water Street.  Lauren Bush Lauren has just opened FEED's first brick-and-mortar shop – and cafe.  Alongside her philanthropic tote bags and accessories you will find beautifully curated, socially conscious items.  And like FEED bags, everything purchased helps children in need.
~ BLACKBARN, 20 John Street.  BLACKBARN shop is a home emporium of distinctive, sophisticated designs from all over the world. This stunning 3,000 square ft space is filled with curiosities, art, furniture and home goods
~ Powerhouse Arena Books, 28 Adam's Street.  Support the independent bookstore, this bright and roomy spot that functions as a bookstore focused on art, events and exhibitions. It also has a terrific kids section.
~ Trunk, 68 Jay Street.  Clothing, jewelry, bags, wallets and furniture, all locally designed and manufactured, making a bold statement that "style can be created and found locally".
~ Modern Anthology, 68 Jay Street.  Male-friendly furniture and home accessories, casual clothing and traditional men's accessories. For your favorite hipster you will find "beard oil" infused with scents of eucalyptus, cedar wood and pine.
~ Half Pint Citizens, 41 Washington Street.  Affordable shop offering unique clothing, eco-friendly products, gear & toys for babies and kids.
VISIT DUMBO GALLERIES
Photography to painting, street art to sculpture: DUMBO's galleries bring the work of local, national and international artists to the Brooklyn waterfront.
~ Klompching Gallery – 89 Water St. Wed.-Sat. 11-6
~ United Photo Industries – 16 Main St. Tues.-Sat. 11-6
~ Minus Space – 16 Main St. Wed.-Sat. 11-5
~ Masters Projects – 91 Water St. Wed.-Sat. 11-6
~ Smack Mellon – 92 Plymouth St. Wed.-Sun. 11-6
First Thursday Gallery Walk, 6-9pm – The First Thursday of every month galleries of DUMBO stay open late, hosting special events and receptions.
LAND STUDIO AND GALLERY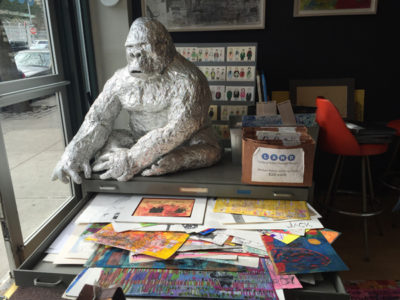 Stop in and visit the artists at LAND Gallery, 67 Front St. Land Studio and Gallery is a unique nonprofit day habilitation program that teaches life skills through the modality of art. LAND (League Artists Natural Design) was founded in 2005 and serves as both studio and gallery for 16 adult artists with developmental disabilities. At LAND, artist develop their skills in a nurturing environment, while their work is marketed to the community in a vibrant and inclusive manner. LAND artist work with painters, sculptors, fiber artists, animators, designers and others who value creative collaboration.
EATS IN DUMBO
~ The River Cafe, One Water St. Celebrate something special at one of New York's most unique locations. Nestled under the Brooklyn Bridge offering sweeping views of the New York skyline and the Statue of Liberty, this elegant restaurant has become a favorite destination for New Yorkers and visitors from around the world.
~It's no secret that DUMBO is the pizza capital of New York, with the highest slice-to-cobblestone ratio of anywhere in the city.  Try a five pie tour: Grimaldi's, Juliana's, Ignazio, Front Street Pizza and Love & Dough.
~ Atrium Dumbo, 15 Main St. Atrium offers a fresh, market-driven menu that draws influence from Chef Laurent Kalkotour's upbringing in the South of France.
~ Vinegar Hill, 72 Hudson Ave. A more relaxed restaurant in a rustic part of the Brooklyn waterfront.
~ Superfine, 126 Front St. Seasonal Mediterranean cuisine, organic meats and fresh seafood. Full bar and occasional live music and pool table.
~ Olympia Wine Bar, 54 Jay St. Wine, beer, cocktails and small plates are offered.
~ 7 Old Fulton, 7 Old Fulton St. Italian, French, Spanish and American Fare under the Brooklyn Bridge.
~ Gran Electrica, 5 Front St. Authentic seasonal Mexican restaurant known for their hand pressed tortillas.
~ Miso Sushi, 40 Main St. Eat in or take out sushi.
SWEET TREATS
No visit to DUMBO would be complete without trying a triple scoop chocolate chip cone from the Brooklyn Ice Cream Factory-among the City's best. The sauces for their sundaes , such as butterscotch and hot fudge, are prepared by the pastry chef at the nearby River Cafe. A couple of other nearby musts to quench your sweet tooth are:
~ Jacques Torres, 66 Water St. This is the original shop where you can buy all types of delicious chocolate including the thickest, richest hot chocolate in town.
~ One Girl Cookies, 33 Main St. The place to go for mini cookies, whoopee pies and cupcakes.
~ Almondine Bakery, 85 Water Street. All the baking is done on the premises by owner and chef Herve Poussot (formerly of Payard and Le Bernadine) croissants, tarts and macaroons are their specialty.
SEE GREAT THEATER AT ST. ANN'S WAREHOUSE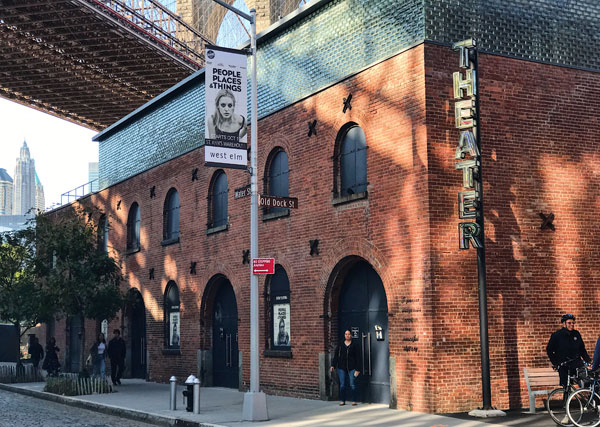 For 35 years St. Ann's Warehouse has been bringing top-notch theater to Brooklyn in a beautifully restored tobacco warehouse on Water Street right next to the Brooklyn Bridge. Check out their calendar for upcoming events.
HEAR THE MUSIC AT BARGEMUSIC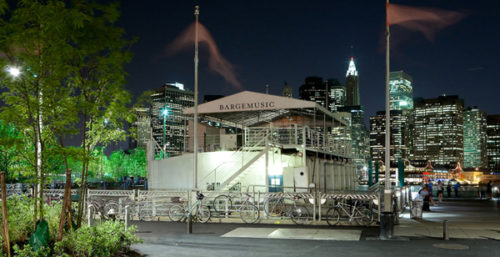 Docked beneath the Brooklyn Bridge, Bargemusic is a floating chamber-music venue, formerly an old coffee barge converted into a music space with an incredible view of the New York skyline. Bargemusic is committed to attracting local audiences and enhancing the cultural life of New York by offering more than 200 performances year-round.