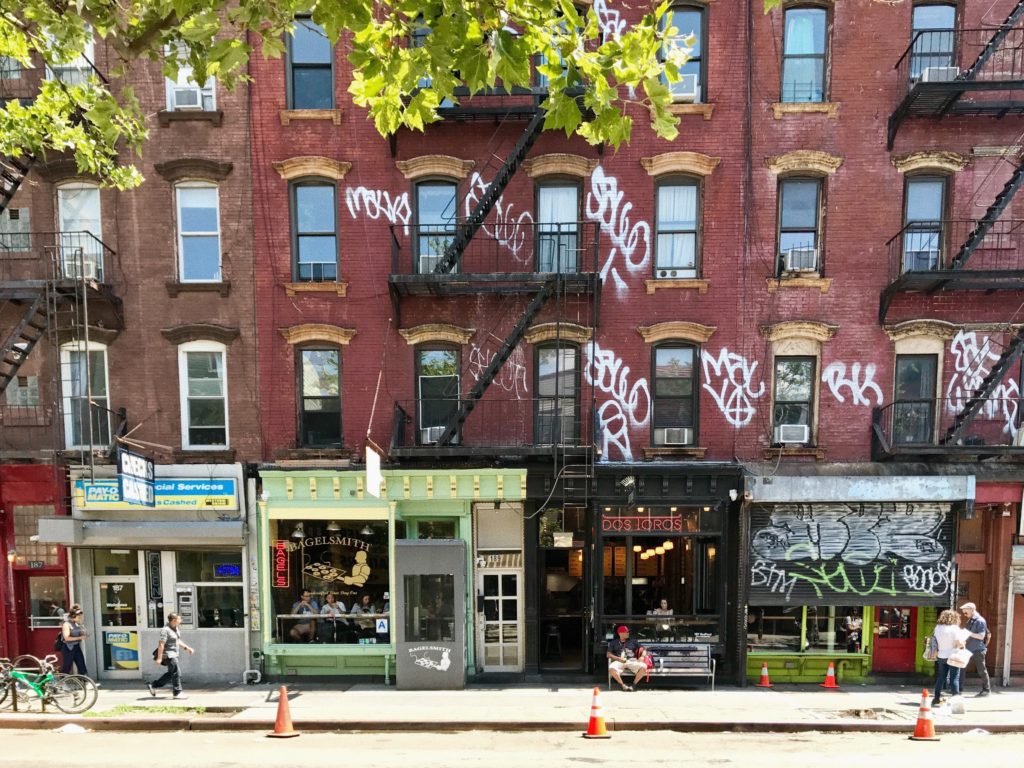 Williamsburg is home to a slew of cute shops, packed coffee houses, arts organizations, music venues and restaurants that are giving Manhattan a run for their money. Over the past 15 years this Brooklyn neighborhood has developed into one of New York's most culturally vibrant enclaves. How to get there? Take the L train to Bedford Avenue where you will encounter a dynamic scene that's rapidly transforming a neighborhood. Wander the streets between Kent and Bedford Avenue, from North 11th down South 1st Street, where old school Brooklyn residents mix with young families and millennials. Williamsburg has become synonymous with creativity and self expression. Check it out.
SHOP LIKE A LOCAL IN WILLIAMSBURG
There is lots of creative energy in Williamsburg's independently run shops. Here you will find everything from NY's first hot sauce store, one-of-a-kind thrift stores to the most beautiful home decor and cheese shops. Here are a couple of my favorites.
~ A & G Merch, 111 N. 6th St. At A & G MERCH the focus is on contemporary, reasonably priced and well made wares with the merchandise displayed in a series of living room and dining room vignettes. You will find a collection of home goods with an edgy tongue-in-cheek vibe everything from decorative accents, lighting, mirrors, rugs and furniture.
~ Heatonist, 121 Whythe Ave. For those of you that like spicy food, who think the hotter the better, run don't walk to the Heatonist. This shop is New York City's first and foremost destination dedicated to hot sauce. A space to discover new and unique hot sauces (over 150) from around the world, most of the sauces have a story behind them. A hot sauce bar, equipped with tasting spoons allow you to try sauces before buying there is even a sauce sommelier who will direct you to what you are looking for. Wondering what to get the friend that has everything? They ship everywhere in the U.S.
~LE LABO, 120 N. 6th St.  LE LABO, is a beautiful fragrance lab with several locations throughout the city.  Each creation is bottled in apothecary-inspired packaging, labeled with your name and date, making your experience unique and personal.
~ CATBIRD, 219 Bedford Ave. A tiny jewel box of a store CATBIRD sells rings, bracelets, designer trinkets and unique gifts.
~ Brooklyn Denim Company, 85 N. 3rd St. The Brooklyn Denim Company not only offers an array of denim choices but they also carry a curated selection of men's and women's outerwear, sweaters, shirts, dresses and accessories from over 50 different brands. Tailoring and repairs are done on the spot in the back of the shop.
~ The Marquet, 346 Bedford Ave.  The Marquet is a lifestyle shop filled with bunches of delicately dried flowers, plants, apothecary products and home goods.
~ Red Pearl, 202 Bedford Ave.  Red Pearl is one of those shops where they sell a little bit of everything  clothing, candles, greeting cards, DIY sets and decorative items.  A great place to pick up a unique gift.
~Amarcord Vintage, 223 Bedford Ave.  At this small,  clean and organized vintage shop you will find a beautifully curated, approachabley priced mix of designer classics and label-less vintage pieces.
SWEET TREATS IN WILLIAMSBURG
~ Odd Fellows Ice Cream Co. 175 Kent Ave. Promise me you won't leave Williamsburg without treating yourself to a frozen confection at this ole time ice cream shop. Offering 14 rotating flavors of ice cream, sorbet, milk shakes, ice cream floats, banana splits, boozy popsicles (I recently tried their Rose' pop – it was like a glass of wine on a stick) and floats. Yum!
~Toby's Estate Coffee, 141 Berry St.  Cafe and roastery for coffee, espresso drinks and a selection of locally baked goods.  A great place for meeting, greeting and lingering for as long as your laptop batteries last.
~ Mast Brothers Chocolate, 105 N. 3rd St. Walk into this store and you are immediately overcome by the delicious aroma of chocolate. Factory tours are held every day of the week giving you a rare glimpse into the magical process that transforms piles of exotic cocoa beans into their delicious artisan chocolate bars, (1,500 are made every day). The best part is the taste test at the end of the tour. Who needs Charlie's Chocolate Factory when we have Mast Brothers right inner own back yard?!!!
~Woops! Bakeshop, 548 Driggs Ave.  Adorable spot with delicious baked goods and an amazing selection of macarons!
EAT, DRINK AD BE MERRY IN WILLIAMSBURG!
Williamsburg is fast becoming the gastronomic heaven of NYC neighborhoods. Whatever your particular pallet pleasures, you're sure to find it here among the ramen shops, wine bars, burger joints and brunch spots. Here are some especially good ones to check out:
~ Lilia, 567 Union Ave. Bringing the best of Italy to Williamsburg this restaurant housed in a re-done auto-shop offers wood-fired Italian fare and homemade pastas.
~ Four Horsemen, 295 Grand St. Wine bar serving charcuterie and small dishes.
~ Egg, 109 N. 3rd St. This restaurant is known for-you guessed it-breakfast. Known as one of the best brunch spots in Williamsburg, their delicious southern dishes are made with ingredients from their upstate farm.
~ Allswell, 124 Bedford Ave. Rustic interior and enjoyable eats, stop by for brunch and enjoy their excellent bloody marys. ~ Diner, 85 Broadway. Housed in a slanted dining car, this restaurant is about simple locally sourced food, try the burger!
~ Marlow & Sons, 81 Broadway. From the same people as Diner and just a few feet away, Marlow & Sons is a specialty market in front and a restaurant in the back. The menu constantly changes but anything you get will be great.
~ St. Anselm, 355 Metropolitan Ave. No reservations for small parties so be prepared to wait (or get there by 6) But you will be rewarded with what some have called the best steak in town, make sure to order the pan-fried mashed potatoes.
~ Okonomi, 150 Ainslie St. Okonomi is a place where you can get traditional Japanese breakfast or lunch. On weekday nights, it's a walk-in ramen shop. On weekend nights they offer a ramen omakase.
SPEND A NIGHT AT THE WYTHE HOTEL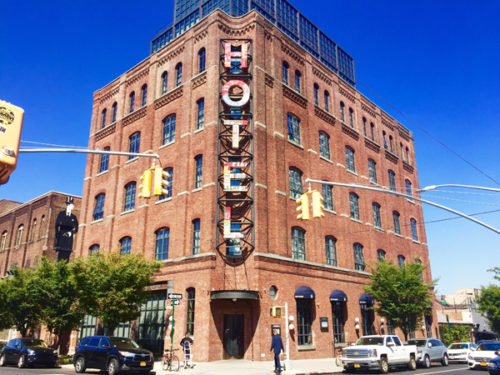 Book a staycation at the Wythe Hotel where everything from the handmade wallpaper to the shampoo is sourced from companies in its native borough. Housed in a historic, refurbished sugar barrel factory on the Brooklyn waterfront, original details like wood ceilings and cast-iron columns give nod to the buildings' past. The Reynard (inside the hotel) is a great spot for breakfast and the roof top bar with unobstructed views of Manhattan is a popular nighttime hangout for the young hipster crowd.
ARTS & CULTURE IN WILLIAMSBURG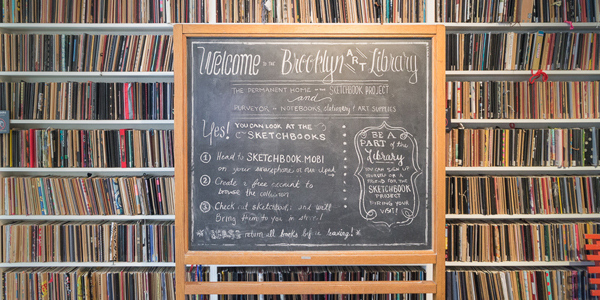 Brooklyn Art Library, 28 Frost St. Brooklyn Art Library is home to The Sketchbook Project – a compendium of 35,179 artists' sketchbooks from over 135 countries. The library serves as a reading room where you can get cozy and spend an afternoon enjoying artwork in a hands-on experience. Each sketchbook is individually barcoded and cataloged with searchable details, like where the book is from, the materials used, the artists name, tag words and oh-so-much more. Anyone can contribute to The Sketchbook Project. Available for purchase at the library all the tools and art supplies a writer or artist requires to complete and decorate their personalized book. When finished it can become part of the ever-growing collection. Books have been used to memorialize friends or family members, as a time capsule, a travel journal and even a marriage proposal (which was actually hidden within a featured sketchbook.)
The City Reliquary Museum, 370 Metropolitan Ave. This tiny museum that opened in 2002 traces the history of New York City's five borough's through a vast collection of cultural ephemera and relics. Here you'll find baseball cards, subway tokens, a collection of souvenir Statues of Liberty, fragments of landmark buildings, memorabilia from the 1939 World's Fair and a collection of "Brooklyn Seltzer Bottles".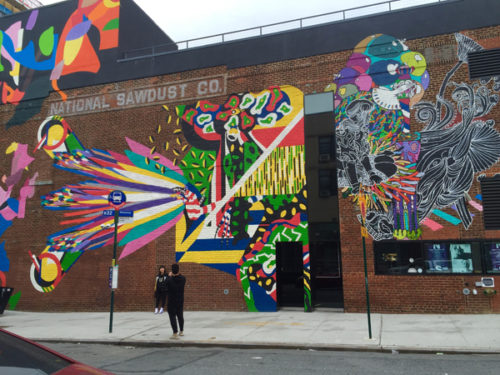 National Sawdust Music Venue, 80 N. 6th St. National Sawdust is an experimental performance space in a converted sawdust factory that opened in Williamsburg in 2015 and quickly became a part of the New York music scene. A place where emerging and established artists can share their music with serious music fans and casual listeners alike.