[RoyalSlider Error] Incorrect RoyalSlider ID or problem with query.
A mere 13 miles from the island of Manhattan lies another, perhaps more mythical island named "Coney".  Located on the Atlantic Ocean in the southwestern part of the borough of Brooklyn, Coney Island is a peninsula residential neighborhood as well as a beach, leisure and entertainment destination.
There's something here for everyone – historians will delight in the last vestiges of old New York with Sideshows by the Seashore, thrill seekers will be satiated by the likes of The Cyclone, Sling Shot and The Thunderbolt, while those seeking more gastronomic pleasures will delight in the plethora of restaurants and food stands on and around the boardwalk.
"If Paris is France, then Coney Island, between June and September, is the world".
~ George C. Tilles, 1886
NATHAN'S FAMOUS
What would Coney Island be without Nathan's?  Nathan's Famous was founded by a Polish immigrant, Nathan Handwerker.  He started his business 100 years ago with a small hot dog stand in Coney Island, selling hot dogs based on a recipe developed by his wife, Ida.
Nathan's popularity was almost instantaneous.  It gained it's first international exposure when President Franklin Delano Roosevelt served Nathan's to the King and Queen of England in 1939.  A trip to Nathan's has been the focus of a multitude of iconic people and places: a feature of a Seinfeld TV episode, ex-mayor of New York Rudy Giuliani declared Nathan's the "World's best hot dog", Jacqueline Kennedy loved Nathan's dogs and served them at the White House.  Actor Walter Mathau requested Nathan's hot dogs to be served at his funeral which if fact they were!  Nathan's Famous is far more than just a hot dog – it has a rich history and it is pure Americana.
NATHAN'S HOT DOG EATING CONTEST
Every fourth of July at the Nathan's famous flagship restaurant in Coney Island people gather by the thousands to witness the most unique sporting competition in the world, the Nathan's Hot Dog Eating Contest.  The 20 competitors stand on a raised platform behind a long table with drinks and Nathan's Famous hot dogs in buns.  The contestant that consumes (and keeps down) the most hot dogs and buns in ten minutes is declared the winner.   The current record holder is Joey Chestnut having eaten an impressive 69 hot dogs.   Catch a glimpse of these hot dog eating legends and the celebration that is uniquely American as it is a Nathan's tradition.
WILLIAMS CANDY STORE
You've eaten your Nathan's hot dog and fries and now getting a craving for something sweet. Located right next door to Nathan's is William's Candy. The moment you walk into this throwback from the 1930's your hit with the smell of sugar and popcorn. Big puffed swirls of cotton candy hang overhead while below candy apples beckon with sprinkles, nuts or just plain red. Williams Candy is sure to please the inner child in all of us.
THE WONDER WHEEL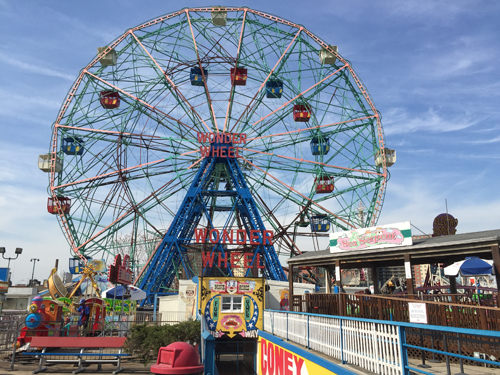 When Constantinos Dionysios Vourderis,better known as "Deno", bought the Wonder Wheel in the early 1980's, he fulfilled a longtime promise to his wife: he vowed, on more than one occasion, to purchase the ferris wheel for her as a wedding present so that everyone could see how much he loved her. What a special gift!  The Wonder Wheel has stood next to the boardwalk longer than the Cyclone, having been built back in the 1920's.  An estimated 200,000 people take the ride each year when it opens in May, closing in late October.
CONEY ISLAND ART WALLS
Coney Island Art Walls on Stillwell Ave.is a free outdoor museum of street art featuring the work of numerous celebrated street, graffiti, contemporary artists and writers.  Located in a 55,000-square-foot space at a prime intersection near the Coney Island beach and boardwalk, the exhibition is well situated for mass audiences.  A myriad of styles are at play with some engaging in activism, local politics and Coney Island history.  This outdoor show is a prime example of the changing world of street art-walking the fine line between edgy, underground culture and summer fun.   No doubt, this exhibition will serve as the background for untold numbers of summer selfies!
THE CYCLONE TURNS 90 THIS YEAR
What is the first thing that comes to mind when you think of Coney Island?  The Cyclone roller coaster no doubt.  This wooden roller coaster with its famous 85-foot first drop and the 60 mph twists and turns have inspired extreme reactions of either  devotion or lifelong terror since 1927.  For the fans of The Cyclone there is nothing more exciting than the fear that your car might fly off the track at any moment.  If you are going to take a ride make sure to sit in the front where you will have the best view or maybe you would prefer the back which gives the feeling of greater speed.  The Cyclone was declared a New York City landmark on July 12th 1988 and was placed on the National Register of Historic Places in June 1991.  So whether you ride, watch or just listen to the screams this is a must-visit summertime destination.
CONEY ISLAND CIRCUS SIDESHOW
The Coney Island Circus Sideshow transports visitors to the old-time Coney Island of odd and freakish talents. Cast members like sword swallowers Betty Bloomerz and fire-eating, sword juggling host, Ray Valenz, have a jaw dropping affect on the audience as they perform amazing and sometimes stomach-churning feats by the ocean.
35th ANNUAL MERMAID PARADE
The Coney Island Mermaid Parade is the largest art parade in the nation. A celebration of ancient mythology and honkey-tonk rituals of the seaside, it showcases over 3,000 creative individuals from all over the five boroughs and beyond.  Kick off the summer June 17th with incredible art, spirit and community pride.