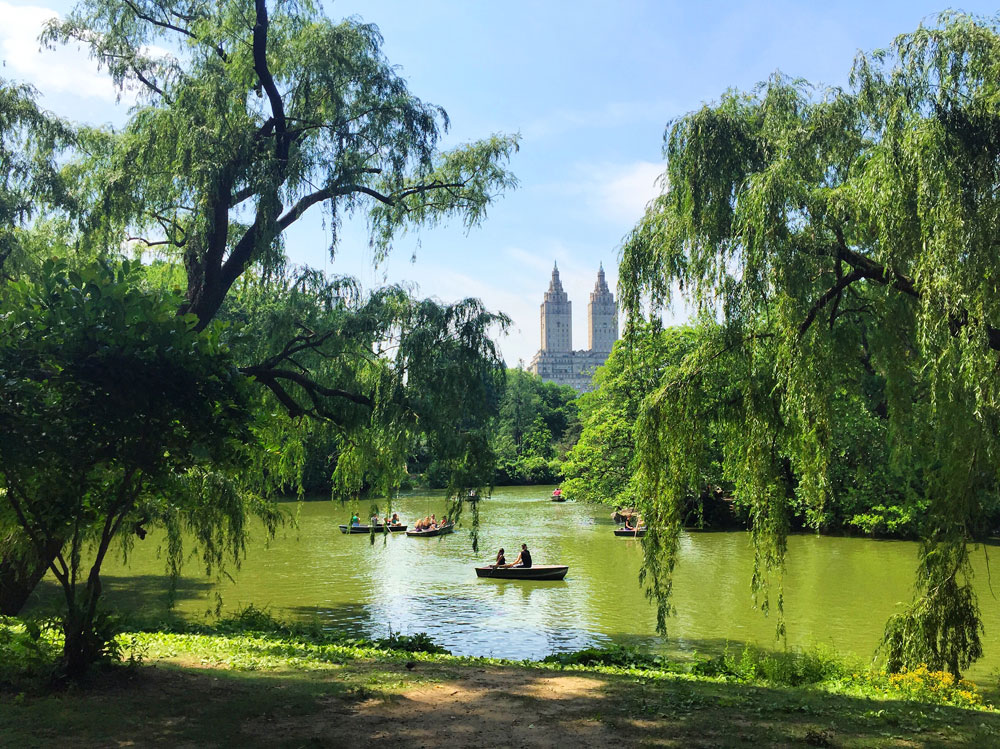 Trying to describe the singular sensation that's Central Park is like trying to describe well, life itself (especially for us city dwellers) !  Each one of the park's 843 acres is a most coveted haven from the madness of Manhattan, containing a treasure trove of art, entertainment, culinary delights, people watching and nature. It's what separates our city – both literally and figuratively – from any other public space in the world. No visit to the Big Apple would be complete without a long, leisurely stroll through this 156 year old gem that is Central Park – truly New York's jewel in the crown.
Where to begin suggestions for the far-too-many spots that capture the spirit, sights and sounds of this magical wonderland? Aaaagh. There are far too many to numerate so herewith are a few of my all-time favorites.
THE CENTRAL PARK BENCHES – Come Sit A Spell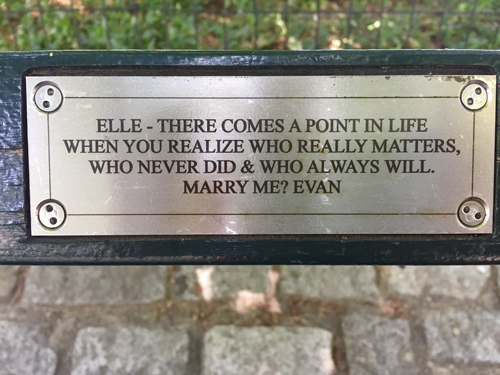 The next time you're sitting, strolling or racing through the Park, take a moment to read the plaques that are affixed to each of the over 9,000 benches scattered throughout the expansive acreage. They are part of the Adopt-A-Bench program established in 1986 to maintain the park seating and their surrounding landscapes. Each plaque describes a personal, poignant moment in time, from marriage proposals "After she said yes, they walked through Central Park", anniversaries "40 wonderful years together and more to come", tributes to our 4-legged friends "To Maja & Bessie: 2 incredible ladies. Thank you for your kindness, friendship and love", as well as honoring our 2-legged giants "In memory of Mike Nichols whose path led from the Upper West Side to the Delacorte Theatre and beyond."
STRAWBERRY FIELDS/ IMAGINE MOSAIC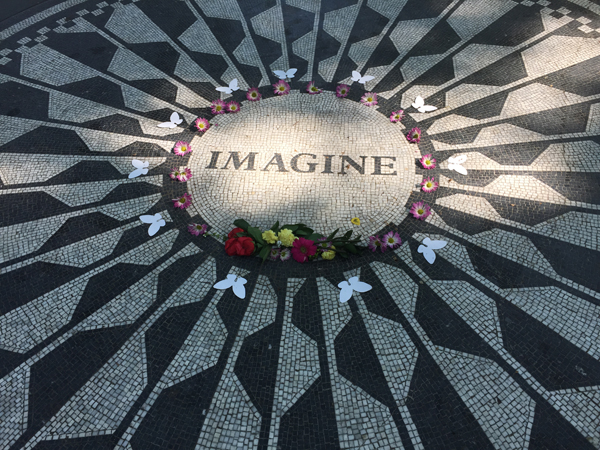 This beautiful "Imagine" memorial located in Strawberry Fields (so named for the Beatles song "Strawberry Fields Forever"), was dedicated on October 1985 on what would have been John Lennon's 45th birthday. The space is located directly across the street from The Dakota apartment building on West 72nd Street, the building where Lennon lived with his wife Yoko Ono, before his untimely death. As one of the most popular sights in the park, visitors from around the world leave flowers, stuffed animals and photos of their beloved song man. A bird's eye view of Strawberry Fields shows it is shaped like a tear drop, a design request from Lennon's widow who worked with the park's landscape architect. The area is a living testament to the intense love that John had for this city – and it for him.
THE BETHESDA FOUNTAIN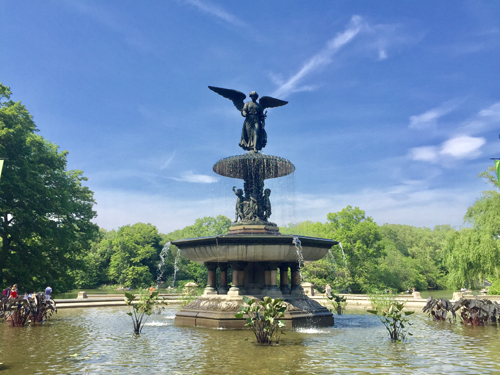 The Bethesda Fountain is one of the largest fountains in New York and one of the most well known in the world. Located mid-park at 72nd St.,
this neoclassical sculpture also known as the "Angel of the Waters" features an eight foot bronze angel who stands above four small cherubs representing health, purity, temperance and peace. The angel carries a lily in one hand, while the other hand is outstretched, delivering a blessing on the water pouring from around her feet.
3 BELOVED, ARCHETYPAL CENTRAL PARK SCULPTURES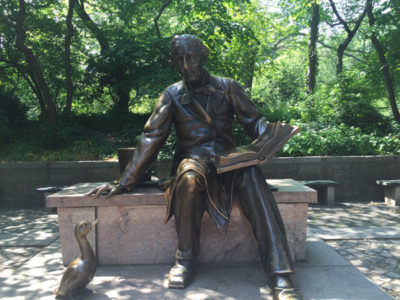 Hans Christian Anderson, erected in 1956 to commemorate the author's 150th birthday, the large bronze statue depicts Anderson seated upon a bench, reading from his beloved children's tale, The Ugly Duckling. For the past 60 years generations of children have gathered around the foot of this statue every Saturday morning from 11am-12pm, rain or shine throughout the summer months, listening to storytellers from the Hans Christian Anderson Storytelling Center read passages from Anderson's heartwarming tales including The Little Mermaid, Thumbelina and The Little Match Girl.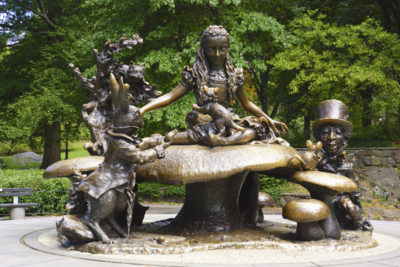 Alice In Wonderland, "Alice" stands eleven feet tall, surrounded by the Mad Hatter, the White Rabbit and a few of her tea party friends. Unlike most sculptures, children are encouraged to climb, touch and crawl all over the beautifully bronzed sculpture so much so that much of the iconic statue's exterior polish has been worn down to a smooth finish, thanks to generations of admiring "climbers" of all ages.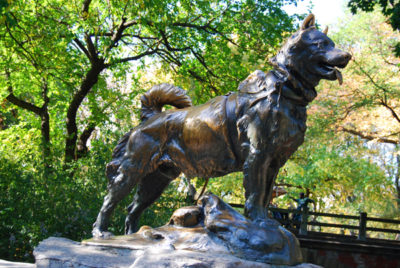 "Balto," the real-life hero sled dog, has stood his guard with great nobility from high atop his boulder since 1925. Legend has it that back then, in the town of Nome, Alaska, there was a horrific outbreak of diphtheria. Balto battled a blinding blizzard and traveled 674 miles to deliver medicine, thus saving the lives of literally thousands of desperate citizens. Located near The Tisch Children's Zoo, beloved Balto stands ready to offer complementary rides on his bronzed back and accept hugs from his admiring fans.
FRIEDSAM MEMORIAL CAROUSEL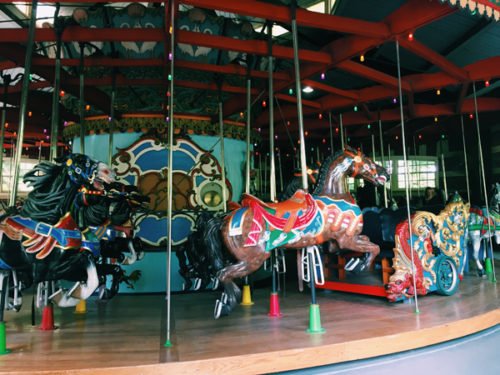 Don't leave the park without taking a ride on the famous carousel located at 64th Street in the middle of the park. Taking a ride on one of the 58 beautifully hand-carved horses is a thrill no matter your age. The carousel has an interesting history: from 1871 to 1924 it was powered by a real four-legged animal! The wooden horses that riders sat on were actually set in motion by a live mule walking on a treadmill in an underground pit. The current carousel (the fourth incarnation from the original and one of the largest in the country) was discovered by the Parks Department, abandoned in an old trolley terminal in Coney Island. Further proof that one person's trash is another person's treasure!
SHAKESPEARE'S GARDEN: Where Words Come To Life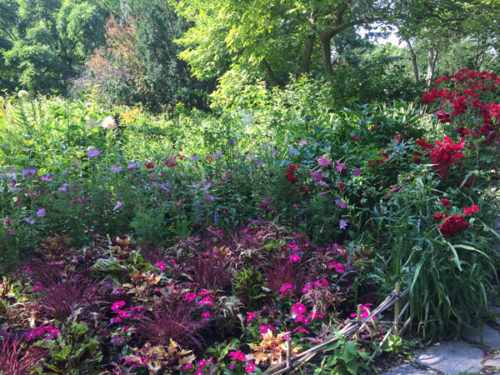 Shakespeare's Garden, located on the West Side of the park and 79th Street, covers four acres of plants that change according to the season so that there is something in bloom 365 days of the year. Every flower, herb, plant and shrub in the garden has been meticulously planned and planted to coincide with Shakespeare's works. For example there is a grouping of rosemary with pansies, a nod to a verse which the character Ophelia alludes to in "Hamlet." Thistle, grown abundantly throughout the property is mentioned in "Much Ado About Nothing" and there is even a white mulberry tree standing in the garden, said to have been grown from a graft of a tree planted by Shakespeare himself. Bronze plaques with corresponding quotations from Shakespeare's plays are placed sporadically along the path. It's the perfect little quiet locale to meditate, pray or just let those sonnets fly!
THE LOEB BOATHOUSE CENTRAL PARK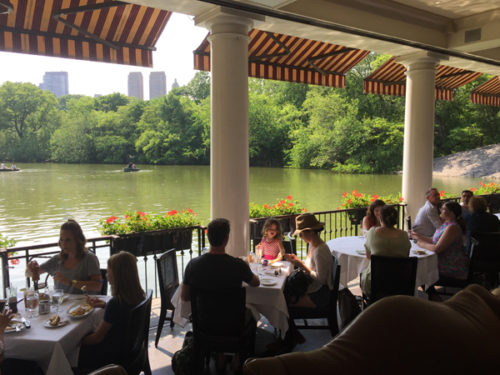 Who needs the expense, airport hassle and jet lag of an overseas adventure when you have a place like this to go to right in your own back yard?! You can literally row, walk or horse and carriage your way over to The Boathouse – truly one of my favorite places in all of New York. The site of numerous iconic movies (When Harry Met Sally, 27 Dresses, Enchanted just to name a few) with its lakeside setting in the heart of the Park, this establishment has it all.
Originally built in 1873, The Boathouse is a haven for romantics and nature lovers alike. Indulge in a sumptuous meal, grab an evening cocktail or jump start your day with a cup of "Joe" on the go at the Express Cafe, all the while gazing upon the hills and dales of Central Park.
ROW ROW ROW YOUR BOAT!
(The "Boats" at The Boathouse)

…as long as you're dropping anchor at The Loeb Boathouse, why not indulge in the spirit of your environs?
There is a fleet of 100 rowboats available for rent or, if it's a taste of Venice Italy you're after, you should book the classic gondola tour. I'd bet a few cannolis that if the moon and stars align you might just get the gondolier (resplendent in traditional straw hat and striped t-shirt) to serenade you. Amore!
CONSERVATORY GARDEN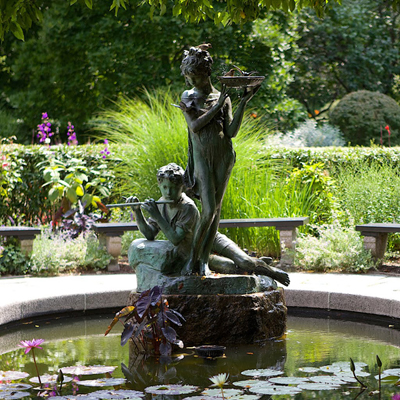 One of the hidden wonders of Central Park is the Conservatory Garden at Fifth Ave. and 105th Street. A secluded six-acre oasis, just a few steps down from one of the city's busiest thoroughfares. It is the only formal garden found in Central Park. The quiet calm atmosphere of the Garden free from runners and cyclists make it an ideal spot for weddings and relaxing afternoon walks. The Garden is divided into three different sections each representing its' own specific style: the north (French Garden), central (Italian Garden) and south (English Garden).
THE MALL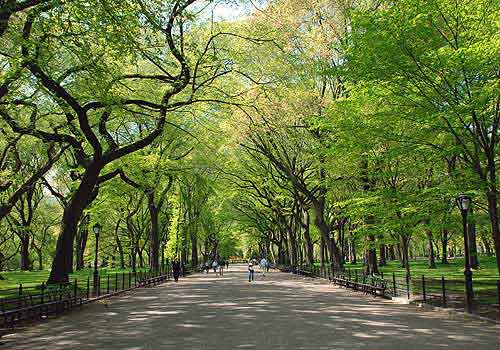 There is only one straight line walkway in all of Central Park and it's located on The Mall. This quarter-mile stretch also happens to be the parks' widest pedestrian way, lined with some of the largest and last remaining American Elms in North America. The southern end of The Mall is called Literary Walk, so named for the statues of writers William Shakespeare, Robert Burns and Sir Walter Scott. There is also a beautiful depiction of Christopher Columbus, who, although seemingly a bit of an odd man out in this pack of literary figures, was equally a leader and bold thinker of his time.
WONDERING WHERE YOU ARE IN THE PARK?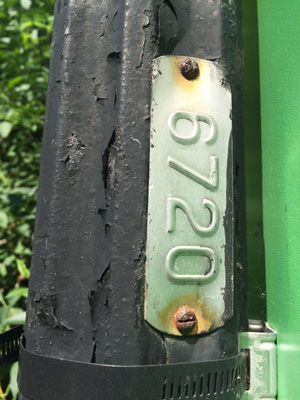 If you ever lose your sense of direction in the park, head to the nearest lamp post or "luminaries" as they are called. There are 1,600 throughout the park and each one can tell you your whereabouts. On the post you will see four numbers. The first two digits tell you the nearest street and the second set of numbers will tell you whether you are on the east or west side. Even numbers mean east, odd numbers west. No compasses (or bread crumbs a'la Hansel and Gretel when lost in the forest) needed to retrace your steps! Just look to the lamps. Who knew?!!!
A LITTLE BIT OF HEAVEN IN THE MIDDLE OF MANHATTAN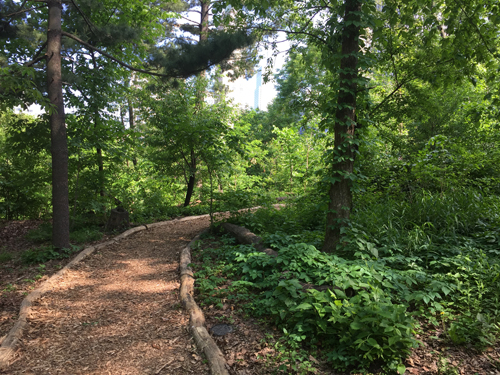 For years, whether en route to the Wollman Skating Rink from my west side abode or simply crossing the expanse of Central Park for some east side shopping, I would ponder the existence of an isolated, fenced-in piece of land looming overhead atop the formidable boulders in the park's southeast corner, teaming with a symphonic cacophany of bird songs. It turns out to be the newly restored and reopened 4 acre Hallett Nature Sanctuary – one of the park's three woodlands.
When you're in need of an escape "far from the maddening crowd". This magnificently serene oasis should fit the bill. Note: there are specific day/hours of operation so be sure to check out the Central Park website beforehand.
PERFECT PICNIC IN CENTRAL PARK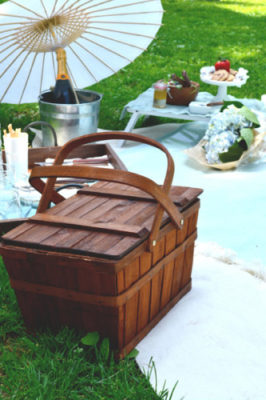 Planning on packing a picnic to hear the Philharmonic perform in the Park or have aspirations of popping the big question in a more unique and personalized fashion, then you should check out Perfect Picnic NYC's coterie of themes, european-style artisanal fare and comprehensive service. You pick your location and they do the rest. This is not the 'ole marshmallow and hot dog roasting picnic paradigm from back in the day; rather this is all about taking time to smell the rose' (flowers and wine) as it were!
CENTRAL PARKS VERY OWN PILGRIM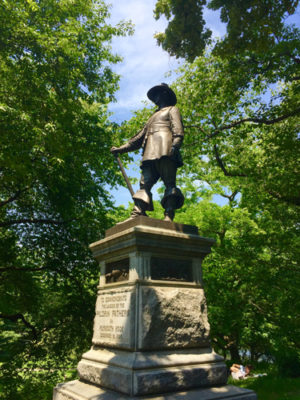 Here's a little fact I'll bet you die hard New York natives, newly arrived and tourists alike didn't know. That grassy knoll which nestles just beyond the Central Park entrance on East 72nd Street is known as "Pilgrim Hill", in homage to the brazenly bronze statue of a Pilgrim that crowns its crest. Sculpted by John Quincy Adams Ward, "The Pilgrim" was gifted to Central Park by the New England Society in 1885. As an aside, it just so happens that this stoic bronzed gent also watches over what us insiders know to be one of the park's primo sledding locales in winter as well as a popular picnicking spot in the warmer months. I'd like to think that such joyful sights bring an inward smile to our man as he continues to stand guard throughout the decades.