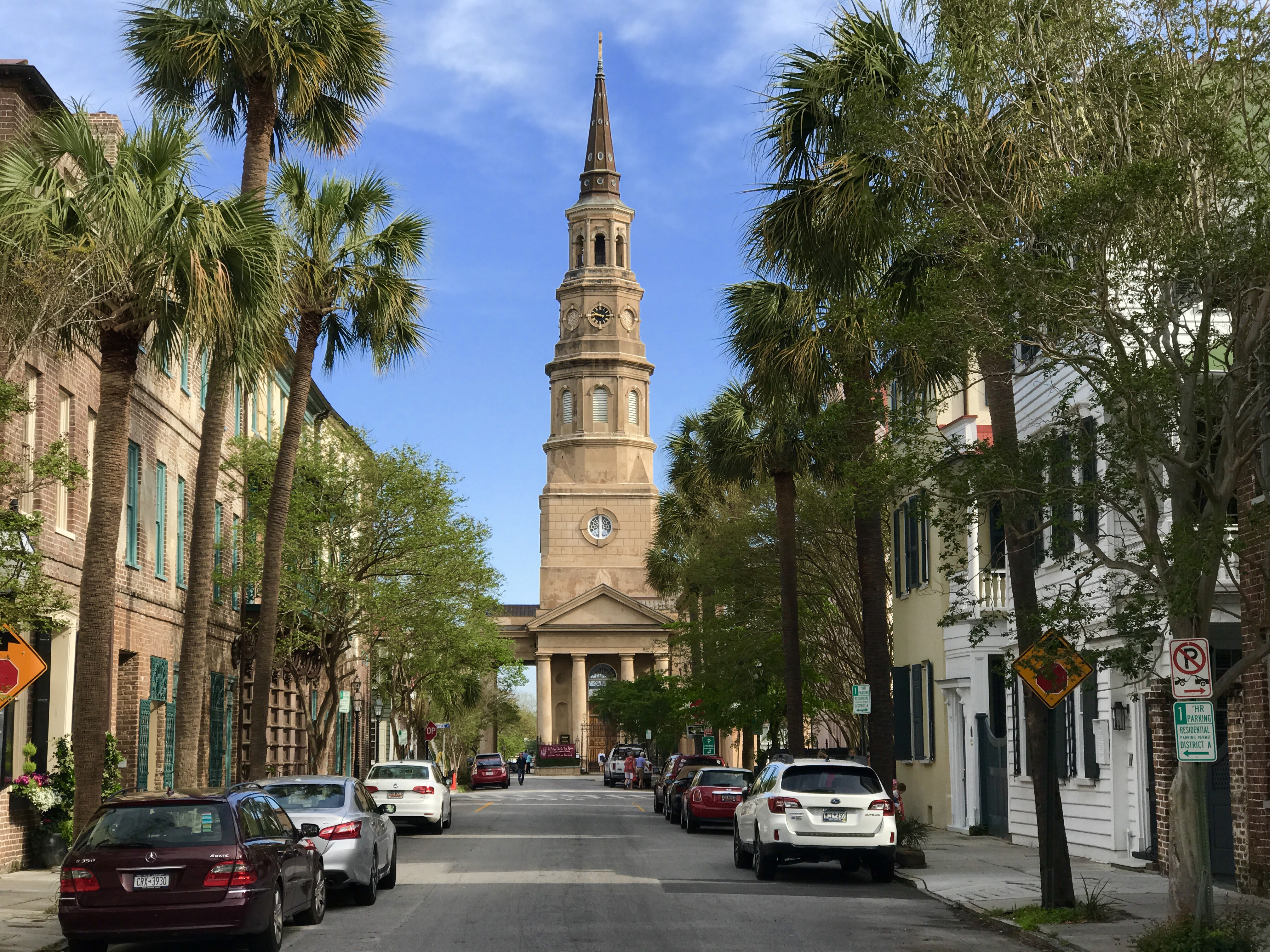 One of the top tourist destinations in the nation, Charleston, is a crown jewel of the American South.  Along with its rich and storied history dating back to 1670, this Southern city is home to the country's oldest gardens and newest culinary trends.  A fascinating mix of quaint cobblestone streets nestled between classical architecture, high-class restaurants and low country cuisine, secret alleyways, flickering gas lanterns and the clip-clop of horse drawn carriages makes Charleston one of my favorite weekend getaways.  Whether you're an outdoor enthusiast, culinary aficionado, beach lover, history buff, architectural fan, or cultural lover, Charleston has it all!
WHERE TO UNPACK
For where to stay in Charleston, options run the gamut from traditional to contemporary, grand to bohemian.  Many historic homes have been converted into inns and B&B's equipped with modern amenities, giving you a unique blend of edgy-urban-meets-southern-comfort.  A couple of my favorites are:
~ZERO GEORGE, O George Street,  Zero George is made up of five historic homes.  The buildings all have the charm of old Charleston, but the rooms themselves feel modern, with a neutral color scheme, big bright bathrooms and a veranda for looking out onto the courtyard.  The original 1804 carriage house is where you will find the lobby and a beautiful restaurant with an enticing menu.
~THE VENDUE, 19 Vendue Range, The Vendue is a combination of two unique hotels located across the street from one another.  Both buildings originally were warehouses dating back to the 1780's.  No two rooms are alike and each is decorated with period reproduction furnishings or true antiques.  The Vendue is the first and only hotel dedicated to the arts in Charleston, over 300 pieces of original art have been installed throughout the hotel.
~WENTWORTH MANSION, 149 Wentworth Street,  Be completely transported back to the old South during your stay at Wentworth Mansion.  This 126 year old property makes beautiful use of its historical roots; such as locating the spa in what used to be the stables and the famed Circa 1886 restaurant in the former carriage house overlooking the gardens.  Most of the rooms come complete with original fireplaces and porches.  Don't leave your pets behind, they're welcome at the Wentworth.
~THE RESTORATION, 75 Wentworth Street,   A boutique hotel featuring a coffee bar, spa, Assouline library, rooftop bar and pool and a great retail boutique.  It's a relaxed, refined, hip hotel.
~THE GRAND BOHEMIAN, 55 Wentworth Street  If your looking for a larger more traditional hotel this is a good option.  The Grand Bohemian is part of the Marriott chain.  It has larger rooms, modern facilities and is close to City Market.
ADVENTURES IN SHOPPING
I love discovering all of the unique one-of-a-kind shops that Charleston has to offer.  Start your shopping adventures on King Street which has been the commercial heart of Charleston for centuries, and today it's as vibrant as ever.
~CANDLEFISH, 71 Wentworth Street,  I love walking into this candle store not only because it is visually beautiful, but with a fragrance library of over 100 different candle scents it smells divine.  They also offer candle making workshops and have a wonderful curated collection of unique gifts and accessories.
~BLUE BICYLE BOOKS, 420 King Street,  This neighborhood book store houses a collection of new and pre-loved books spanning all genres in addition to a whole section devoted to the City of Charleston itself.  This shop will make you wish everyday was a rainy one so you would have an excuse to spend hours browsing from room to room.
~THE COMMONS, 701 East Bay Street,  A thoughtful collection of stunning home goods such as wooden bowls, hand-thrown ceramics and glassware all made in America.
~CROGHAN'S JEWEL BOX, 308 King Street,  Over 100 years old, this family run jewelry store features fine jewels, estate treasures and antiques.
~SHIRTINI, 192 King Street, A curated collection of menswear inspired Oxford-style shirts for women.  Fantastic quality and fit.
~ALEXANDRA FRENCH ANTIQUES, 156 King Street, An amazing antique shop filled with rare, unusual and the most charming antiques.
EATS
This town offers a breadth of restaurants that truly make it a premier dining destination.  In addition to the traditional Southern cuisine, Charleston boasts a number of chef- driven places, from a boisterous oyster bar to an Asian restaurant housed in a converted gas station.
~LEON'S , 698 King Street,  Looking for some real southern food?  Head to Leons. Located in a converted auto body shop, this restaurant dishes up classic fried chicken sandwiches, hush puppies, delicious salads and of course, oysters.  No reservations here; it's first come, first served.
~THE ORDINARY, 544 King Street,  A Southern seafood hall and oyster bar located in an old bank.  Good food, good drinks and the best oyster shooters around.  This restaurant is anything but ordinary!
~THE MACINTOSH, 479 King Street,  A modern American menu in a casual tavern-like setting, with an open kitchen in the back.  Try the bottomless Mimosa brunch or the Bacon Happy Hour which are both local favorites.
~CANNON GREEN, 103 Spring Street  A big bright beautiful restaurant serving local, seasonal and fresh fare with a little bit of a mediterranean influence.  A great spot for brunch.
~HUSK, 76 Queen Street,  "If it doesn't come from the South, it's not coming through the door" says James Beard Award-winning Chef Sean Brock.  Every ingredient used comes from area farms or their own garden.
~XIAO BAO BISCUIT, 224 Rutledge Ave. A hip hangout in a converted gas station.  This restaurant serves up what the owners call Asian soul food.  Authentic dishes from Vietnam, China, Thailand Korea and Japan.
MORE EXPLORING
There is so much more to see and do in Charleston.  Art galleries are everywhere and more often than not you'll want to take a peek inside.  The Gibbs Museum of Art recently went through a five year renovation.  This Beaux-Arts building is strikingly modern with open studios and uncluttered galleries housing over 10, 000 works that tell the story of American art.  Take an early morning walk along The Battery, the Southern tip of Charleston's peninsula.  This lovely spot along the waterfront is where the majority of Charleston's grandest homes are located.  To see more beautiful homes head to Rainbow Row, the biggest grouping of Georgian row homes in the US and the most colorful residences you'll ever see.   Visit the Pineapple Fountain in Waterfront Park; the Pineapple is a common motif in Charleston representing Southern hospitality.   Spend an afternoon at Boone Hall  "Americas most photographed plantation"  just a quick ride outside of the city, where you will be wowed by its authentic charm and stunning beauty. For all you movie buffs, this is where The Notebook was filmed.  Take a tour of Fort Sumter and hear the history of where the American Civil war began.  Hop aboard a horse drawn carriage, grab a drink on the rooftop  of The Vendue with its sweeping views of the city, or take a culinary tour; but most of all walk and explore all the beauty the city has to offer and get completely lost among the hidden alleyways and historic homes.